Robert McNeil completes Ross-inspired renovation at Kernwood
January 17, 2022
Golf course architect Robert McNeil of Northeast Golf Company has completed renovation work at Kernwood Country Club in Salem, Massachusetts.

Work at the club began in 2006 after a gas line was installed, directly through the path of several holes. McNeil has since provided design services, including short- and long-range master planning, for several projects.
---
Kernwood's Emmerich, Dully fall short in Mass. Jr. Amateur match play
August 4, 2021
Following a pair of impressive stroke play rounds to open competition at the 103rd Massachusetts Junior Amateur, Aidan Emmerich found himself comfortably advancing to the championship's do-or-die match play bracket.

Only the top 16 golfers after the first two days qualified and Emmerich earned the No. 3 seed thanks to a 68-73-141 (3-under par) performance on Monday and Tuesday.
---
Andy Brickley hopes to put local atheletes' personalities 'On Course' in new TV Show
July 19th, 2017
There are plenty of golf television shows on regional sports networks. For the most part though, they focus on instruction or course layouts.
When NESN debuts "On Course with Andy Brickley" on Saturday, it's hoping to use golf to bring out the personalities of area athletes in a more relaxed environment.
Brickley, who plays five or six times a week, knows his way around the golf course almost as well as he does the hockey rink.
"I hope they get a little more educated about the guest — who they are, what they are all about, their sense of humor, their sense of competition. The human interest aspect of it," the former Bruin said during a filming Monday at Kernwood Country Club in Salem. "Some stuff can be repetitive if you're reading papers and you're online and stuff.
---

Golf Tip: How to straighten out that slice
July 19th, 2017
One of the more deflating things a golfer can go through during a round is watching shot after shot sail off to the right.
The dreaded slice.
According to Frank Dully, PGA head professional at Kernwood Country Club in Salem for the last 20 years, two major things that cause the ball to slice are an open club face and an incorrect swing path. He offered up a couple ways to try to straighten out the slice.
---
Salem's Kernwood Country Club raises $50K for nonprofits
July 5th, 2017
Salem's Kernwood Country Club recently announced that its third annual "Kernwood Cares" charitable golf tournament raised more than $50,000 to be distributed to more than 25 nonprofit organizations.
This year, Kernwood Cares paired with the On Course Foundation's Northeast Qualifier for the 2017 Simpson Cup. This is a two-day tournament that Kernwood Country Club hosts for wounded veterans from all over the United States.
---
Reading The Greens golf column: Special week for Dully, Tobin, Flynn
May 20th, 2016
We received a couple fresh reminders this week why the North Shore is such a special place for all things golf. Three names made it so on this occasion.
On Monday at the gale-force wind-plagued U.S. Open local qualifying round at Essex County Club, Kernwood head professional Frank Dully played what he declared afterward as "possibly the best single competitive round of my life" when he shot a one-over par 71 and won medal honors. The 49-year-old Dully moves on to the 36-hole sectional qualifier the first week in June. If successful after that test, he'll play in his first U.S. Open at famed Oakmont Country Club June 16-19.
---

Kernwood Members Volunteer Time to Serve Meals to Those in Need
March 31st, 2016
Salem, MA —On Wednesday, March 30th 18 of Kernwood Country Club's members volunteered their time to serve meals at My Brother's Table in Lynn. In just two hours, over 250 meals were distributed to those in need. Kernwood's team took part in preparing food items, serving meals, assisting disabled patrons, and cleaning up after the dinner service.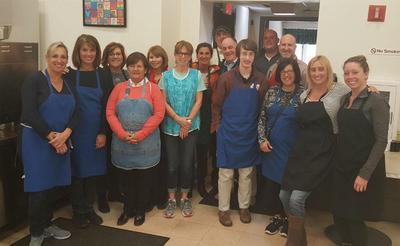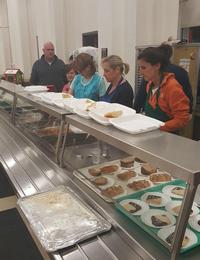 Philanthropy has always been a strong part of the club's culture. Over the years, members have contributed over $2 Million to local organizations. Many members sit on the board of local organizations, and even more members regularly volunteer at non profits in the community on their own time.
Founded in 1982 My Brother's Table, the largest soup kitchen on the North Shore, has provided over 2.9 million hot, free meals and outreach to men, women and children in need. Last year alone MBT served over 126,000 meals.

Since the second year of operation MBT has been open 365 days a year, through snow and ice storms, power outages and other difficult events. My Brother's Table has been open over 10,000 consecutive days, offering free meals to everyone who comes to our door, regardless of race, color, creed or sex.
---
Kernwood Announces New Young Professional Membership
For Immediate Release: October 2nd, 2015
Salem, MA — Kernwood Country Club has just announced the addition of a Young Professional Membership category for 2016. This new opportunity provides young professionals age 25 - 34 a unique opportunity to join one of the finest private golf facilities in New England. The century-old Donald Ross course has been home to several state and regional tournaments, including the 2014 Massachusetts Golf Association Amateur Championship.
For over 20 years, Kernwood has connected with young golfers by donating use of their course and golf facilities to Salem State University's Golf Team. Local High Schools, including St. John's and Swampscott High School have also benefitted from member's generosity of the course, each for over 10 years. This new category will bridge that existing connection, allowing alumni and other young professionals in the area, to invest in a membership of their own.
As the Private Club industry continues to change, Kernwood has kept up with the trends by providing services and amenities that continue to attract new and diverse families and professionals from across the North Shore Community. Their Junior Golf program continues to grow each year, and participation in Member events reached record high numbers for the club in 2015.
---
Headline: Boston Globe Celebrates the History and Centennial of an MGA Member Club - Kernwood Country Club
For Immediate Release: December 10, 2014
Norton, MA — Nearly five months ago, a field of the best amateur golfers in the state traveled to Salem. They thought that they were simply competing in the 2014 Massachusetts Amateur Championship, but what they found was a true New England, Donald Ross gem along the scenic Danvers River, which ebbs and flows into the Atlantic Ocean.
They found Kernwood Country Club.
It was a memorable six days and a fitting way to help celebrate the Centennial year of club. The philanthropic-rich history of the club is being documented in a Centennial book penned by North Shore golf historian Gary Larrabee and it was featured in a recent article published in the Boston Globe (see below).
Congratulations to Kernwood Country Club on a fabulous first Centennial. Here's to the next 100 years!
---
Kernwood a club to call home
Kernwood in Salem, founded 100 years ago by Jews who were excluded from playing at area golf courses, carries on a tradition of welcoming all
By Brion O'Connor, Globe Correspondent, December 7th 2014
More than a century ago, Louis Edward Kirstein, like many other prominent businessmen from Greater Boston, was fascinated with the growing leisure phenomenon of golf. There were a number of exclusive clubs that embraced the sport, and the wealthy were eager to get into the swing. But Kirstein and a group of friends found the doors to those clubs locked tight, for one simple reason: They were Jewish.
That rejection led to the establishment of one of the most enduring institutions on the North Shore, Kernwood Country Club in Salem, which celebrated its 100th anniversary this year.
"That was the country club culture of those days, and in some respects, it's the same today," said golf historian and author Gary Larrabee of Wenham. "Back then, the Yankees, the Brahmins, they had their places to play."
According to Larrabee, those country clubs reflected the "human condition" of the time, where members who worked together — at law firms, hospitals, successful businesses — elected to also spend time together socially and recreationally. He said the area's most storied clubs, including The Country Club in Brookline (established in 1882), Essex County Club in Manchester-by-the-Sea (1893), Myopia Hunt & Polo Club in Hamilton (which hosted four of the first 14 US Opens, in 1898, 1901, 1905, and 1908), and the Salem Country Club (1895), had very restrictive membership policies. "Let's face it — it was discrimination," he said.
Laura New of Swampscott, a longtime Kernwood member, agreed. "Way back in the early 1900s, our society was not tolerant, was not accepting," she said. "And the only way these people could have a place to call their own was to set up their own."
Undeterred, the Jewish businessmen founded Elm Hill Country Club in Boston as a place to socialize and began looking for a permanent home to play golf. The group, led by Kirstein, an executive with Filene's Sons and Co., employed the same tenacity and creativity that helped the department store owners become wealthy.
"By serendipity, they found this magnificent piece of property on a peninsula in north Salem, which had been up for sale for four or five years by the Peabody family," said Larrabee, who as a teenager worked as a caddie at Kernwood. "Francis Peabody had initially found this property back in 1840 or thereabouts, and had a magnificent Gothic mansion built there. That was his escape.
"The Peabodys in those days owned half of what we call the North Shore today. They were a super-successful family, a huge clan. They were like Salem's version of the Rockefellers or the Carnegies during that time."
Though Larrabee didn't uncover any proof while researching his history of the club, the general belief among Kernwood members is that there was some resistance at the time to selling the property to Jewish investors.
"I think it's just unknown," said Jim New of Swampscott, like his wife Laura a longtime Kernwood member who served as club secretary for 19 years. "We know that those founders had difficulty and actually weren't able to join the Greater Boston clubs a hundred years ago, so they actively looked to form their own organization."
Kirstein and his group were persistent, and eventually got the deal done, purchasing Peabody's 105-acre estate for $90,000 ($2.1 million in 2014 dollars) in 1914, said Larrabee, quoting a Boston Globe report. The group transformed the parcel along the Danvers River into the Kernwood Country Club, keeping the name that Peabody gave his home, and opening a nine-hole track designed by famed course designer Donald Ross in 1915. Three years later, another nine holes were added.
"The next thing you know, they had their playground, and they had a clubhouse already built in the form of the Kernwood mansion," said Larrabee.
It was the first Jewish country club in Greater Boston, a forerunner for clubs such as Belmont, Pine Brook in Weston, Ledgemont in Seekonk, and Spring Valley in Sharon. "This club was founded because The Country Club, Tedesco, Salem, Myopia, Essex — all the clubs around here — did not allow people of the Jewish tradition to join," said Jack King, Kernwood's current president. "So these guys went out and found their own property in Salem, and I would argue that they found the best piece of property that exists. There's an irony there."
Conversely, and in part because of the persistent prejudice that the founders encountered, Kernwood never made being Jewish a condition of acceptance, said longtime members.
"A hundred years ago, it was predominantly, if not exclusively, Jewish," said New, who joined the club 42 years ago. "But it has never been a requirement, and it has never been a hindrance, as far as my experience, for anyone to join. Over the last generation, 25 to 30 years, the club has experienced growth from all walks of life."
King, who took the office of club president during Kernwood's centennial this year, is the first non-Jewish president in its history. "The brand at Kernwood, in terms of its pillars, it hasn't changed," he said. "But in terms of its diversity, it has changed enormously."
A retired ExxonMobil executive who splits the year between homes in Marblehead and Houston, King joined Kernwood nine years ago. He said the attraction, in addition to a stellar golf course, was "great people, great friendships, great fellowship. We have a membership of enormously good people who are very, very generous to their community."
Philanthropy "has been a pillar of Kernwood since its inception," said King, who serves on the board of St. Mary's School in Lynn. "It's real simple. For those of us who are so blessed to be able to belong to an institution like Kernwood Country Club, there's an obligation to share our blessings in the community. In terms of seeking members who want to belong to Kernwood, and members of Kernwood, there's an expectation that you would be an active participant in the community, with your time, your talent, and your treasure.
"The club is a great source of members who are leaders of so many different charitable organizations on the North Shore,'' said King. "It's very much a big part of the spirit and the culture of the club."
Peabody's Gothic mansion is long gone, razed in the mid-1950s to make room for the current clubhouse. But the golf course — and the core values of its founders — remain intact, said King.
"The founders, if they could see Kernwood today, I think they would be very proud of us, that we have been great stewards of this Donald Ross gem of a course, that we continue to fulfill the mission of philanthropy just as they envisioned it. And I think they'd love the friendship and fellowship we share at Kernwood."
Brion O'Connor can be reached at [email protected].
---
For Immediate Release
October 22, 2014
Contact: Kathryn Gelardi
Membership & Marketing Director
978-745-1210 x205
[email protected]
Kernwood Junior Golfers in the News
A big round of applause goes out to the following junior golfers for their recent golf achievements.
Cooper Lev, a senior at Brookline High School and the son of Mark and Carol Lev, recently helped his Brookline High School golf team capture the Bay State Championship at Spring Valley Country Club in Sharon, MA. In addition, Cooper shot a one-over par 73 to claim the Bay State League individual championship.
Christopher and Matthew Cole, sons of Frank and Geralyn Cole, just finished up their season as integral members of the Lynn English golf team. The Lynn English golf team qualified as a team for the state tournament for the first time since 1997. Kernwood Junior Club Gross Champion Chris Cole led the team with an 11 and 1 match record from the number 4 position. His twin brother and Kernwood Junior Club Net Champion, Matt, played the number 5 position all season and won his final match against Peabody to help punch the team's ticket to the state championship.
Max Emmerich, son of David and Kimberly Emmerich, played on the St. Mary's golf team this season. The team qualified early for the state tournament jumping out to an early 9 and 2 record.
Jake Kramer, a Kernwood bag room employee, caddy, and Marblehead High senior, will compete as an individual in the state championship finals at Glen Ellen Country Club in Millis, MA. Jake shot an 80 at Far Corner Golf Course. That qualified him as an individual as his team did not advance.
---
For: Immediate Release
Wednesday, August 13, 2014
Contact: Kathryn Gelardi
Membership & Marketing Director
978-745-1210 x205
[email protected]
Kernwood Employees Earn Scholarship Funds for Service to Club
Salem, MA – Last night at Kernwood Country Club, 18 employees were awarded a total of over $13,700 in scholarship awards. The employees represented all Club departments including the Golf Staff, Food and Beverage, Banquet Servers, Aquatics, and even a Management Intern.
Most recipients reside in Salem, Peabody, or other local towns, and they come home to pick up shifts at the Country Club during the summer months, when the Club is at its busiest. In fact, many of the employees have turned down other summer positions to pursue Kernwood- strictly because they know they will have the ability to earn a scholarship. The student employees represent a range of schools, including four who are attending Salem State University, and others from The University of New Hampshire, Framingham State, Massachusetts Maritime Academy, Western Connecticut State, Saint Anselm's College, Lasell College, Syracuse University, UMASS Amherst, Great Bay Community College, Seton Hall University, Plymouth State University, University of Loyola, University of New England, and MGH Institute of Health.
The Club's annual Caddie Alumni Tournament, for which all past Club caddies are invited back to attend, fuels the majority of the Kernwood Scholarship Fund's resources. Some returning caddies have been coming back to the Club for over 30 years, and some have only left the Club in recent years. Whatever their background may be, they all share one common bond through their association and service to Kernwood, and they are happy to continue to return and support the caddies – along with all other Club employees of today.
Kernwood has a long standing value of philanthropy and giving back to the Community. General Manager David Mazur states "The mission of KCC is to enrich the lives of ALL who enter through the Kernwood Arch…". This includes not only the members, but guests and staff as well. All active employees, and even dependents of active employees, who are continuing their education, are eligible to receive funds from the program.
---
For: Immediate Release
Date: July 31st, 2014
Contact: Kathryn Gelardi
Membership & Marketing Director
978-745-1210 x205
[email protected]
Philanthropic Initiatives Alive and Well in 2014 at Kernwood Country Club
Kernwood Country Club is raising over $100,000 for local charities during their centennial year. With many reasons to celebrate in 2014, primarily their 100th birthday and the hosting of the prestigious Massachusetts Amateur Championship, the Club and its membership are not falling short on sharing Kernwood's good fortune with others.
The third annual Swing to Support Dana Farber, organized by the Ladies of Kernwood, raised over $90,000 for Jimmy Fund Golf. Members and guests enjoyed a kickoff Glow-Ball Golf event on July 19th while a silent auction, luncheon, and 14 hole golf tournament was held on Tuesday July 22nd. Kia National was the presenting sponsor for the event, and the members themselves donated everything from gift cards and wine packages to sports tickets and memorabilia for their silent auction.
Almost immediately following the Swing to Support, Kernwood's membership stepped up again – this time for their inaugural Charity Pro-Am Tournament, where members got to choose and play for their favorite local charity.
Among those represented, The A.L.S. Family Charitable Foundation, The Jason Garfield Foundation, Haven from Hunger, Hospice of Danvers, Bridgewell, and the Club's very own Scholarship Foundation received contributions from the winning teams and team members. The event was held on Monday, July 28th and raised over $8,000 for a variety of charitable organizations.
Kernwood Country Club was one of the first private, member owned clubs in the country to establish a caddy scholarship program. Today – employees from all departments are eligible to receive scholarship monies to further their education. On Tuesday, August 12th, past employees and members will play in the 2014 Kernwood Country Club Scholarship Foundation Tournament to raise funds that will assist a current employee as he or she continues to reach their educational goals.